Four Wheel Campers Project M Revealed – Truck Camper Magazine
Four Wheel Campers launches a new product concept that challenges the very definition of pop-up truck campers and fuses the advantages of truck toppers and roof-top tents. Does it demount? Does it make sense? Let's find out.
Above: 2020 Four Wheel Camper Project M. All photos supplied by Four Wheel Campers.
Picture in your mind a traditional pop-up truck camper. Remove the camper's floor, lower side walls and interior cabinetry. Keep the upper side walls, pop-up roof, windows and cabover sleeping area.
Inside the unit, with your feet on the metal of your truck's bed, you are standing straight with 6'6" of interior height. Around you are four large windows in the pop-up's soft wall. In front of you is a King or Queen-size foam mattress in the cabover. If you didn't look down you'd swear you were in a standard Four Wheel Camper.
That's Project M; essentially the upper two-thirds of a Four Wheel Camper Shell Model reimagined as more affordable ($8,995 MSRP) and significantly lighter (425 to 500 pounds depending on truck size) product.
Compared to a Four Wheel Camper Shell Model ($10,995 MSRP), Project M is $2,000 less and 400 to 475-pounds less weight.
To put this in proper perspective, Project M is 19-percent less in cost and 49-percent lighter in weight than Four Wheel Camper's previously most affordable and lightest weight offering.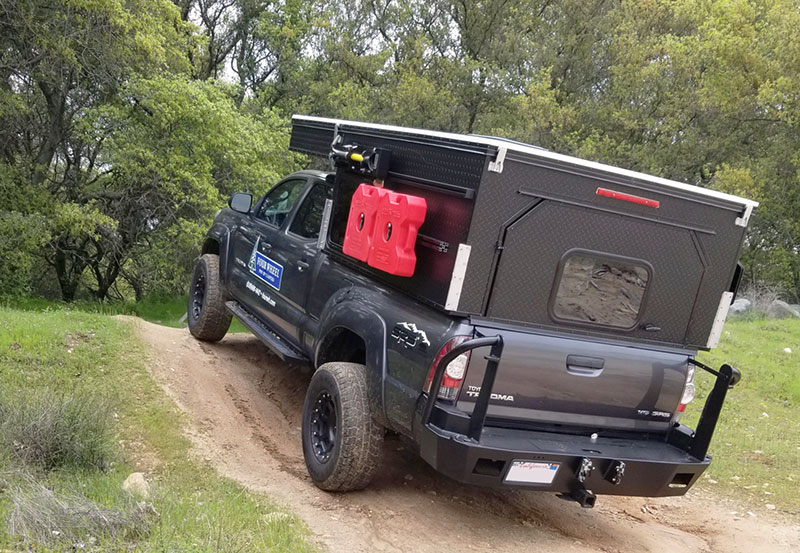 Does Project M Demount?
As a magazine, we have a simple shorthand to instantly distinguish between a true truck camper and products that look like truck campers, but fail to offer the demountable versatility our marketplace and community demands.
If it doesn't demount, it doesn't count.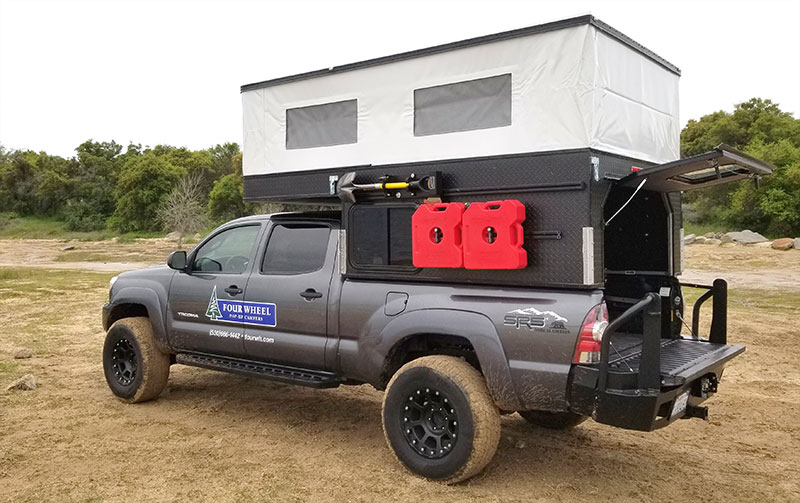 While the photographs provided by Four Wheel Campers do not show camper jacks, they do show jack brackets on all four corners. Furthermore, their initial release stated that Rieco-Titan camper jacks are an option.
Oh, and there's one more thing…
At 425 to 500 pounds (without options) Four Wheel Campers suggests that a Project M camper can be physically removed and mounted – by hand! Never before in our nearly 13-year history with the truck camper industry has a manufacturer made such an audacious claim.
Where's my calculator…
With four people, that's 106.25 pounds per person for the 425-pound model and 125-pounds per person for the 500-pound size. That's certainly possible with four strong individuals, but I suspect six people would be better.
And don't you think for a second that we're not going to put this claim to the test. Heads up Four Wheel Campers. Before we're convinced, this camper must be carried; lifted, loaded, unloaded and lowered. Get your back supports ready.