Flatbed Hawk Tour
The Flatbed Models are only offered in one floor plan (shown below). This is a sample interior rendering. Siding, fabrics, and options can change depending on the final options you choose for your new camper.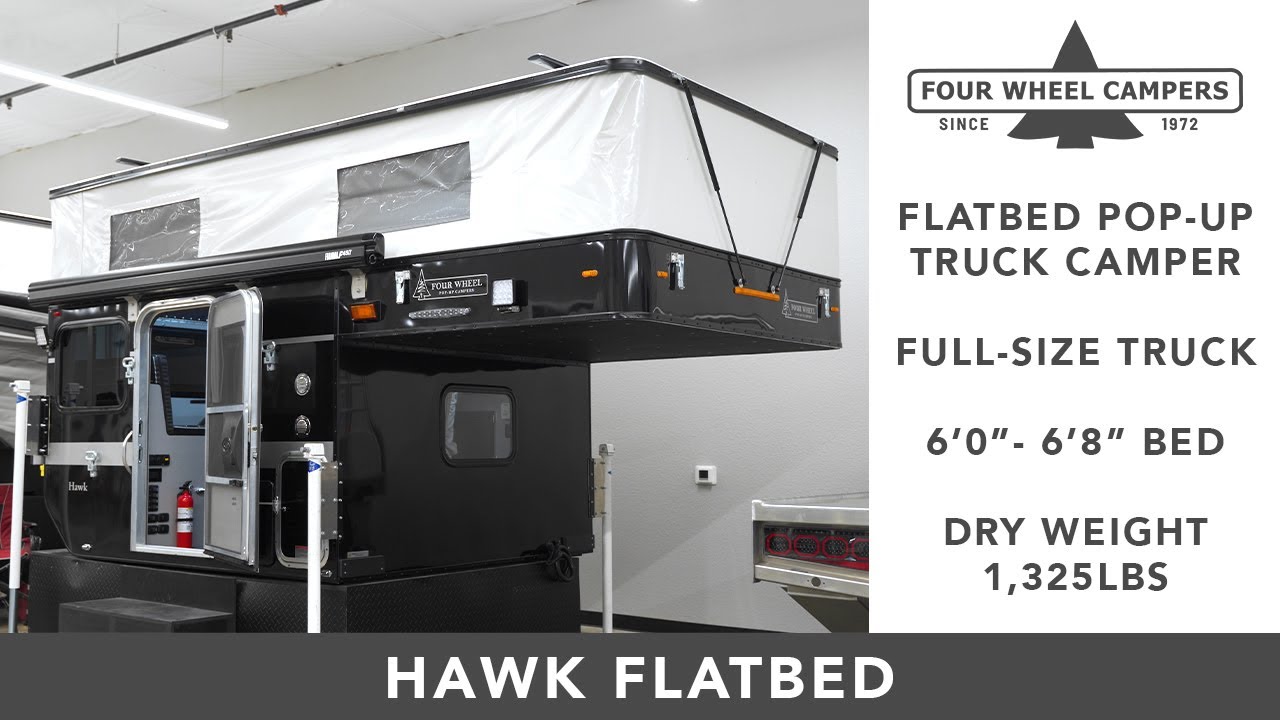 Specifications
Here are the basic Hawk Flatbed Model specifications. Please click the Specification Link below to view a camper specifications sheet, or click the "Build & Price" button to see available options, additional pricing, and camper weights.
Camper Framing

Welded Aluminum

Welded Aluminum
Camper Roof

One Piece Aluminum

One Piece Aluminum
Camper Siding

Aluminum

Aluminum
Upholstery & Collapsable Siding

Cut, Sewn, and finished at FWC factory

Cut, Sewn, and finished at FWC factory
Base Model Dry Weight

1325 lbs.

1325 lbs.
Height Down (including vent)

60"

60"
Interior Headroom (popped up)

6' 6"

6' 6"
Adult Sleeping

3 - 4

3 - 4
Cabover Bed Area MeasurementStd. Queen 72" x 77"
Opt. King 83" x 77"
Std. Queen 72" x 77"
Opt. King 83" x 77"
Lower Bed Area Measurement (rear dinette)

31" x 77"

31" x 77"
Roof Length

140"

140"
Floor Length

80"

80"
Body Width

81"

81"
Fresh Water Capacity

20 Gallons

20 Gallons
Propane Capacity

(2) 2.5 Gallons

(2) 2.5 Gallons
I'm not lost. I'm exploring.
Key Benefits
The rugged light weight aluminum frame and low profile design greatly reduce vehicle and driver strain, while maximizing fuel efficiency
Hard and soft side materials and craftsmanship translate to decades of use in most any environment.
The one-piece, light weight aluminum roof is water proof and handles decades of ups and downs.
Flatbed Models offer more interior living space and also have storage space under the cabover bed. These models can be a great choice for people spending a lot of time on the road camping.
Build & Price

Get a camper price and weight based on features and accessories you select

Build Camper

Find a Dealer

Locate a dealer located in the US, Canada, or other countries

Find Dealer
Subscribe for latest news
Receive emails about upcoming events, new products, and adventure/camping news